Introducing the Gregory Smart Chair, the most intelligent ergonomic technology the market has ever seen, combining Gregory's award winning ergonomic seat technology with cutting edge sensor technology to create a holistic ergonomic solution.
In built sensors in the dual density seat foam automatically detect when the user is seated incorrectly (potentially in a poor ergonomic position) and sends a push notification to the users smartphone
to alert them. Further to the ergonomic notification, the sensors will also alert a user when they have been in a seated position for too long and it is time to move for their wellbeing, minimising the health risks associated with sitting for extended periods of time.
The smart chair feature is optional on all Gregory chairs at time of manufacturing.
More than simply an ergonomic chair, gregory smart chairs open up a whole whole new dimension of ergonomics and wellness ensuring the most valuable asset in any organisation, you, are protected.
Alerts users when seated in poor posture
Reduces the chance of develping deep vein thrombosis (DVT)
Improves productivity and wellbeing
Automatic asset auditing to reduce risk
All gregory smart chairs come with free access to the Gregory smart chair app. This app enables you to take advantage of 30 years of ergonomic knowledge and research so you can enjoy the complete gregory experience and ensure you are seated in the optimum position.
You can monitor your time seated during the day and make adjustments to your routines to achieve optimum and regular break times for maximum circulation benefits.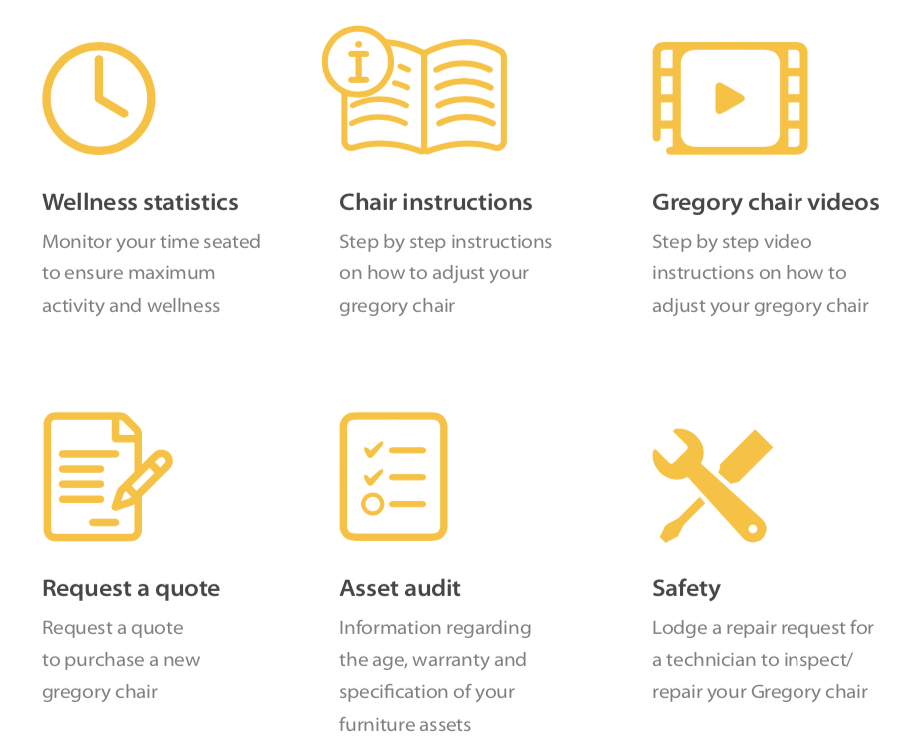 FAQs
These are some of common issues you might face when using Gregory G-Smart. If you can't find your question here, use this link to contact us.
What do I need to start using my G-Smart Smart Chair?
Hardware: An Bluetooth-enabled Android device (phone or tablet) or an iOs device (iPhone or iPad) to connect with.
Software: G-Smart Smart Chair is on Google Play Store for Android devices. For iPhone and iPad, G-Smart is available on App Store. This app is FREE and can be downloaded from here.
How can G-Smart help me with my health?
It alerts you when you sit for a long time. It also sends you cautions on your device when chair's sensors consider your posture improper. It keeps your sitting profile for the past days.
Can I have G-Smart app on multiple devices?
Yes, provided you choose a username on all of your devices you can share your activity data between your devices.
Can anyone else see my activity details or track me?
No, unless you don't choose a username to login with your app and use your chair as guest. All activities and settings are saved in your chair not in your phone. You can simply create a username and password inside the app to keep your data safe.
If you don't want an account you can choose only a username to get a local user ID. This method provides a lower security level.
How can I connect my phone to the chair?
First of all you should install G-Smart app on your device. You can find the store links here.
Open the installed app and tap on Scan QR Sticker. Point the scanner camera to
What if I lose the QR sticker of my chair?
Connecting is still available by tapping on Pick From List in the bottom of QR scanner window.
A QR sticker helps your phone identify your chair quickly. They are also a proof that you have access to the chair physically.
Should I scan the QR sticker every time I use the chair?
No. As soon as you are using the same chair you don't need to scan the sticker. App is always running on the background of your phone. It connects to your chair when it is in the range and disconnect when you go far. If the app is closed by any reason, open the app and tap the green button in the first page to reconnect to your last recent chair.
Note: For the background apps a message must resides in notifications bar in Android devices which can be manually disabled.
Is it possible to change alarm settings for my chair?
Yes, it is. You can change the settings when the app is connected to the chair. In Android go to Settings in menu which is on the top corner of main page. Simply adjust the timers to your desired values and exit.
Can I share Gregory smart chair with someone else?
Yes, maximum five people can share a G-Smart simultaneously. They should have their own username to prevent their data from mixing up together. They also need to scan the QR sticker before their first sitting and use the green play button ever after.